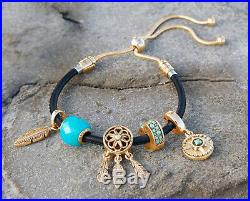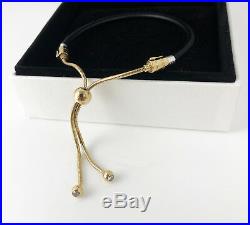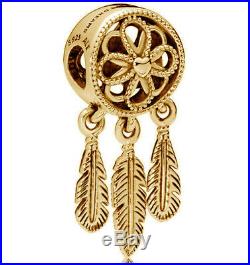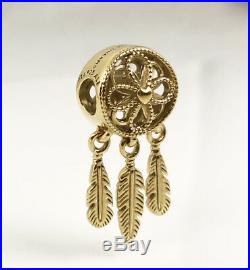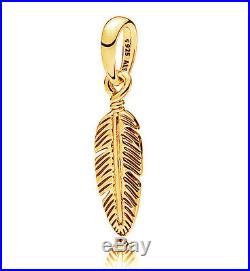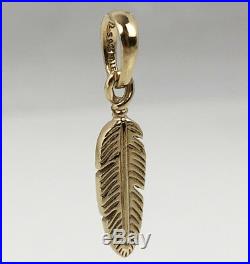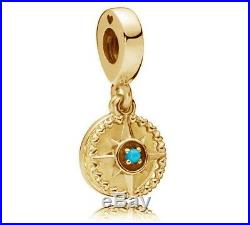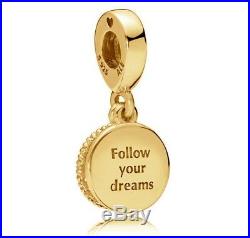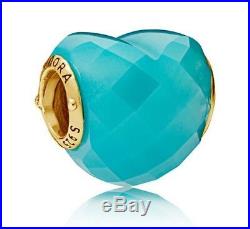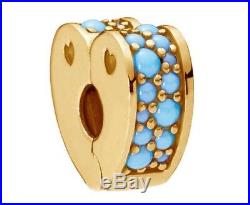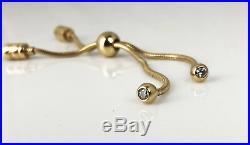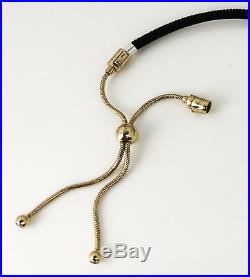 PANDORA Festival Collection Leather Sliding Bracelet Set. 14K Gold Vermeil Plated. Add feminine edge to your wrist with this black leather charm bracelet festival creation from Pandora. The 14K gold plated sterling silver bolo clasp of the bracelet allows you to adjust the bracelet to your desired length, while the stone embellishments add a subtle hint of sparkle. Charms slide effortlessly onto the new design and the end caps can be changed for a truly personal look. Included in this collection that you are purchasing. Moments Black Leather sliding bracelet. Cyan Blue Arcs of Love Clip. Blue Shape of Love Charm. Compass Rose Hanging Charm. Spiritual Feather Necklace Pendant Charm. If you would like a different gold finish, please just message and let me know. The gold plating is triple plated over palladium so it is very versatile and suitable for every day wear. It is far thicker than industry standard and considered'vermeil' in many countries. If you would like a certain PANDORA item done in gold please message me for a quote. If you do require the charm box as it is a gift, please message to confirm or leave a note during checkout. This authentic PANDORA piece is stamped with the letters S925 ALE, the original jeweller's hallmark. Genuine Sterling Silver PANDORA piece heavily gold plated. If you do require the charm box and gift bag, please message us. All items are sent with online tracking. If you need it urgently, please just let me know. What Is Gold Vermeil? Gold vermeil, or just vermeil, is a term used to refer to jewelry or other items made of sterling silver and coated with gold. Comes from French and is pronounced? An alternative term is? , which has the same meaning as? How Gold Vermeil Is Made. Vermeil jewelry is made by first creating the base of the item out of pure sterling silver and then plating it with layers of gold. The method used to cover the surface of the piece with gold is called electrolysis or electroplating. Gold vermeil can be made with gold of varying purity, but in the U. There is a minimum requirement: To be considered vermeil, a piece needs to be plated with gold that is at least 10 karats (which corresponds to approximately 42% gold content). How long a vermeil jewelry piece will last depends on the thickness of its gold plating. The thicker the item? S top layer of gold, the longer it will take for it to wear away. The karat of the gold layer is also related to the piece? S durability: The higher the karat number of the plating, the softer the gold alloy is and the easier it will be for the surface to scratch. Gold-Filled and Gold-Plated Jewelry. The main difference between vermeil and gold-plated/gold-filled jewelry is that vermeil items have a base made of pure sterling silver, whereas plated and filled pieces can be made with a variety of metals. For this reason, vermeil jewelry can be more valuable than comparable gold-plated or gold-filled items made with a cheaper base metal or alloy. Vermeil does also usually have a much thicker gold layer than gold-plated items. As for gold-filled jewelry, although the thickness of its gold coating may vary, it is often not the case that it is thicker than that of vermeil items. Therefore, you may find that from a durability standpoint, gold-filled pieces are not always superior to vermeil ones. Vermeil, Nickel Content, and Allergies. In general, if you are wearing vermeil, you shouldn? T be worried about allergic reactions to nickel as this type of jewelry does not contain the metal. We are more than happy to help out with any reasonable request. The item "Genuine PANDORA Festival Collection Bracelet and Charms Set 14K Gold Vermeil" is in sale since Sunday, June 24, 2018. This item is in the category "Jewellery & Watches\Fashion Jewellery\Charms & Charm Bracelets". The seller is "cryptocurrency_australia" and is located in Maroochydore BC. This item can be shipped worldwide.
Charm Type: Bead
Metal Purity: 14K Gold
Main Colour: 14K Gold
Base Metal: Sterling Silver
Main Stone: Cubic Zirconia
Material: Silver
Brand: Pandora
Metal: 14K Gold Plated
Theme: Love & Hearts
Type: Charm Bracelet with Charms
Modified Item: Yes
Modification Description: This Pandora item has been professionally gold plated with 14 karat gold. The item was purchased directly from Pandora and opened only for gold plating purposes.